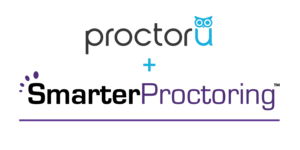 ProctorU, the world's largest provider of online proctoring and identity management services, is partnering with SmarterServices, a full-spectrum assessment services company. The ProctorU integration with SmarterServices' SmarterProctoring platform allows organizations to use a single interface for scheduling, administration and reporting of proctored exams regardless of how they are delivered.
"This integration between two powerhouses in the exam proctoring industry gives online faculty and exam administrators one of the most streamlined experiences available in today's market," said ProctorU founder Jarrod Morgan.
Using a single, LMS embedded interface, test-takers can choose how to take an exam from multiple modalities including live/online, automated proctoring, a campus test center, an instructor in a classroom, or through an approved proctoring professional who meets an institution's proctor criteria. The integration provides ultimate flexibility accommodating more options for proctored testing all in one system. Exam facilitators are able to communicate to test-takers which proctoring modalities are available for each exam and to view a dashboard displaying the test-taker proctoring work flow.
"We are proud to offer this integration with ProctorU to serve more test-takers and make higher education and credentialing programs more accessible to individuals around the world," said Dr. Mac Adkins, CEO and Founder of SmarterServices.
The complete offering includes:
Intuitive scheduling interface for all proctoring modalities.
Exam information that is securely sent to proctors.
Accommodation information that is privately and appropriately communicated to proctors.
Incident reports including video from online proctored sessions are submitted to organizations or schools from proctors.
Test-takers can register for any approved proctoring modalities such as local test centers; testing professionals; and live and automated online proctoring.
Access to a nationwide pool of over 5,000 testing professionals which displays proximity to students.
No software to install.
About ProctorU
ProctorU provides a full suite of online proctoring and identity management solutions for education, professional development and certification organizations. With patented, 24/7 on-demand live proctoring and a fully-automated platform, both backed by artificial intelligence, ProctorU offers a powerful, convenient and cost-effective alternative to traditional test centers. ProctorU increases access to online learning while ensuring exam integrity and accountability for any test-taker with internet access using only a computer and a webcam.
About SmarterServices, LLC
SmarterServices is a full-spectrum assessment services company that solves unmet market challenges facing learners, instructors, institutions, and organizations by developing unique educational technology solutions to improve a learner's success. We provide SmarterAssessments to design and deploy custom assessments with intuitive report builder that includes multi-media options; SmarterMeasure, a suite of readiness assessments including the Learning Readiness Indicator (LRI), Teaching with Technology Readiness Indicator (TTRI), Competency-Based Education Readiness Indicator (CBERI), and Math & Writing Readiness Indicators (MRI, WRI);. SmarterProctoring, the only complete proctoring system on the market that accommodates proctoring in multiple modalities including automated and live online, and record and review. SmarterID, a student authentication system that uses facial recognition to validate identity and document attendance, can be used inside SmarterProctoring or as a standalone application.