This article originally appeared in the EDUCAUSE Industry Insights Column.
Institutions of higher education protect their reputation with carefully crafted academic integrity policies. This is core to an institution's mission to encourage the intellectual growth and original thought of their students while prohibiting plagiarism and other forms of academic dishonesty.
With the significant increase in online enrollment across public and private universities, institutions have updated their academic integrity and misconduct policies to include rhetoric specific to online attendance and test-taking behavior. Online proctoring has become a standard service to ensure the integrity of students and exams and an institution's reputation when it comes to the prevention and reporting of cheating.
The Role of Accreditors in Online Programs
Although universities are taking a stance to protect the credibility of their institution and the validity of their student records and outcomes with online proctoring solutions and revisions of their academic integrity policies, they have not been given any guidance or criteria that are specific to the policies and delivery of their online programs and assessments.
Universities are evaluated by national and regional accrediting bodies, which set the standards for these institutions as the self-regulation bodies of the higher education industry. However, criteria set forth by these accrediting bodies are often vague in their requirements and specific only to identity verification, as evidenced by the standards of both the Higher Learning Commission (HLC Criteria 2.E-3) and the Southern Association of Schools and Colleges (Section 10.6). These accreditors focus primarily on the creation of an academic integrity policy and the authentication of student identity for those who complete a course, with the minimum standard for student authentication being a login and password.
Even if a university can verify a student's identity, this does nothing to prevent or catch a cheating student. A lack of guidelines for proctoring online exams puts the academic integrity of online programs and higher education institutions at risk. How can a university validate a student's degree and their outcomes if they can't verify that the student who took the assessment didn't cheat?
Online Proctoring Innovation Is Outpacing Accreditation Standards
The technology of online proctoring has far surpassed the minimum criteria and standards accreditors have established for online programs. Fully automated proctoring solutions are now using artificial intelligence (AI) and machine learning to flag suspicious behaviors that can then be confirmed by an instructor or proctor review. The AI that backs the most sophisticated automated solutions gets smarter with every exam by learning from human behaviors and sounds, such as determining whether a noise variation during an exam is a dog barking or an accomplice whispering answers.
The leading live service, available through ProctorU, adds a layer of artificial intelligence behind its proctoring system so that proctors are notified when suspicious behaviors occur, minimizing the chance of proctors missing possible cheating behaviors. If an individual were whispering answers to a student outside of a proctor's camera view, the AI would pick up on this noise variation and alert the proctor to intervene. AI is used to augment a proctor's capabilities by picking up on subtleties such as barely audible whispering that is not normally captured by the human eye or ear.
ProctorU has added a third level of cheating prevention and monitoring by including intervention specialists that audit exam sessions in conjunction with artificial intelligence/automated proctoring and live proctor models. This three-layered approach ensures that cheating behaviors are detected, recorded, and documented for evidence and reporting.
This multilayered approach of live proctoring backed by AI and supported by intervention specialists has helped ProctorU document and prevent more cheating behaviors than ever before. Data from 2018 has revealed that 75% of exam sessions have required the removal of unpermitted materials before an exam even begins. Furthermore, nearly 1% of all exams sessions resulted in a confirmed academic breach.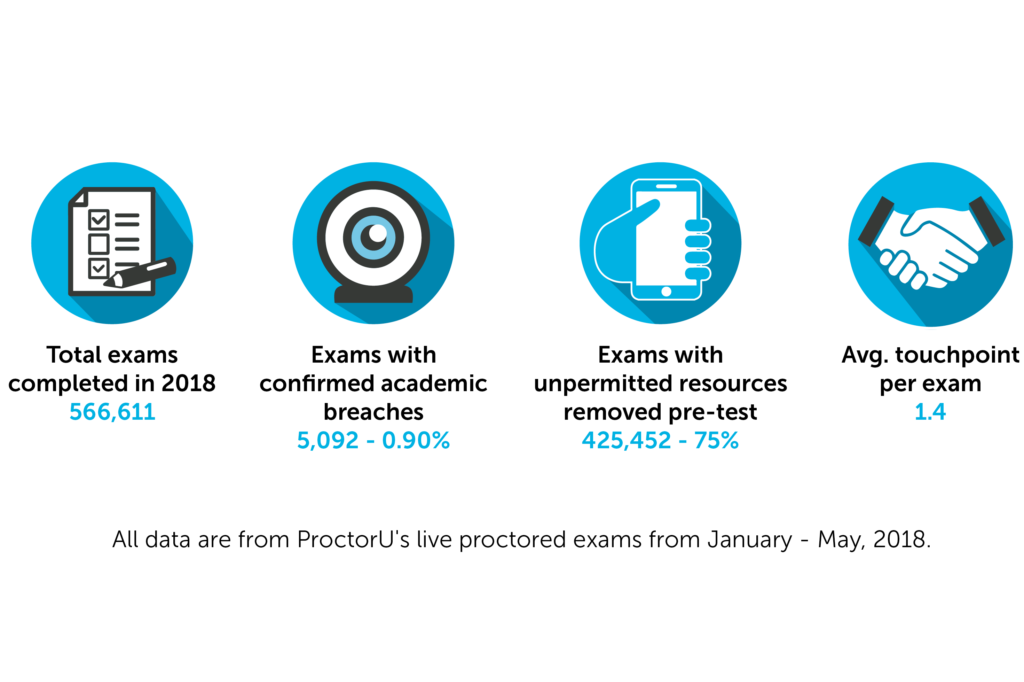 With the continued growth of online programs and evolution of online proctoring solutions, accrediting bodies must begin to reassess the criteria and standards set for institutions of higher education when it comes to academic integrity. Technology and online proctoring solutions have far surpassed the standards that exist. Shouldn't accrediting bodies continue to keep up with the market capabilities to protect academic integrity?
For more information on ProctorU's multilayered, full suite of live and automated online proctoring services, please contact us. If you would like to weigh in on this accreditation conversation or just talk about the latest advancements in online learning and exam proctoring, we'd love to hear from you.