Today in our ProctorU Spotlight is Bell Woods!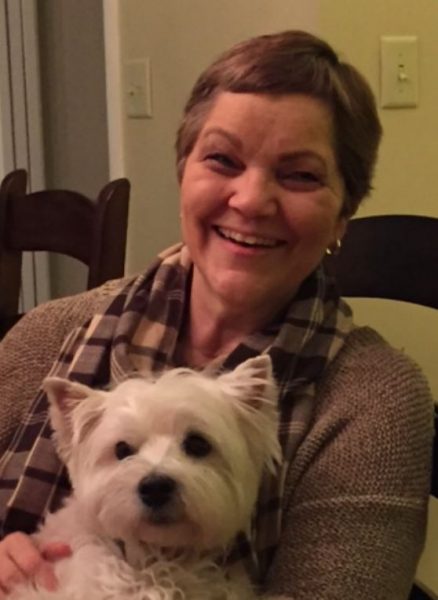 Hello Bell! What is your title?
B: I was initially hired as an executive assistant to manage conference participation including travel and lodging for the partnership team. For a couple of years, I was also the contract coordinator and I currently serve as conference coordinator on the marketing team.
How long have you been with ProctorU?
B: I began at ProctorU five years ago last month, but I knew Jarrod (Founder Jarrod Morgan) at Andrew Jackson University when ProctorU was started.
That's a long time! What are the things you love about working here? 
B: What I like most about working at ProctorU is the people. Everyone is great!
Do you have any good stories to share about your time here? 
B: I think the best story is that of ProctorU's amazing growth! We started out sharing office space with Andrew Jackson University and new students were sent a webcam in the mail so their exams could be monitored. There were just a couple of part-time proctors and it was a stellar week if 100 exams were proctored. Now, hundreds more exams than that are proctored in any given hour!
Could you describe a typical work day for you here at ProctorU? 
B: Most days, I just try to keep track of all the conferences where ProctorU will exhibit or sponsor. Some conferences are small and don't require much more than registering to exhibit, but others require interacting with other members of the marketing team and multiple vendors to ship booth display parts and/or Procki to and from a conference venue; arrange for electrical, internet, audio/video, and rigging services; order special clothing for ProctorU attendees; purchase "swag" and obtain printed collateral to be given away at our booth; and much, much more.
Do you enjoy helping with details of planning conferences? 
B: I appreciate the variety my job entails! It never gets boring!
How have things changed since you first started here? 
B: There have been so many changes since I began at ProctorU I don't think I can remember them all! A few include moving to the current headquarters office, the change in CEO and addition of other C-level executives, opening other proctoring centers, the addition of more partner institutions and over 4,000,000 exams proctored. (When I was hired, our literature said that we had over 200 partners. Now we have over 1,000!) My supervisor and the location of my workspace have also changed multiple times.
What is your favorite off-day hobby? 
B: I learned to use a sewing machine when I was five years old and enjoy spending time in my sewing room making quilts.
Around here, you're known as the editor. You say your editing skills come from reading so much. What is your favorite type of book to read?
B: I learned to read before I even started school and have always loved books. I mostly read non-fiction, i.e., self-help, biographies, spiritual – but also some fiction.
Tell us about your family!
B: I have six daughters and two sons, thirteen grandchildren and two great-grandchildren. My youngest daughter still lives at home, but most of the others live all over the U.S. Both of my sons are in the U.S. Army. I am the oldest of five siblings who also have large families, so I have lots of nieces and nephews and most live in the Birmingham area.
What's your favorite thing to cook? To eat? 
B: My favorite thing to cook is not a specific food, but a specific meal. Every year on the Saturday before Christmas, I host a brunch for any of my immediate and extended family who are in town. We have biscuits and sausage gravy; a grits bar with eggs, cheese, green onions, bacon and salsa; and a delicious winter fruit salad. Some years, as many as 75 people come, but this past Christmas, there were only 58. We wind it down with a "dirty Santa" ornament exchange.
If I'm eating out, my favorite kind of food is Mexican.
What is your absolute favorite thing about the culture here at ProctorU? Has the culture stayed intact over the years?
B: Having never visited any of the other proctoring centers, I can't generalize, but the office in Birmingham has a wonderful team spirit! The "open door" policy of the executives is also so refreshing.