During National Hispanic Heritage Month we celebrate the many incredible Hispanic individuals whose accomplishments have positively impacted our communities, history and culture. National Hispanic Heritage Month begins September 15, the date on which Costa Rica, Guatemala, Nicaragua, Honduras and El Salvador celebrate their independence from Spain.
Over the course of 2020 National Hispanic Heritage Month, we have highlighted four amazing individuals who advanced education in some way. Each of these people shared the same belief that education is one of the most important gifts that can be given to an individual, as it continues to add value to the world.
The men and women we chose to feature are a small selection from a huge pool of people. Get to know all about them below!
Jaime Alfonso Escalante Gutiérrez, 1930-2010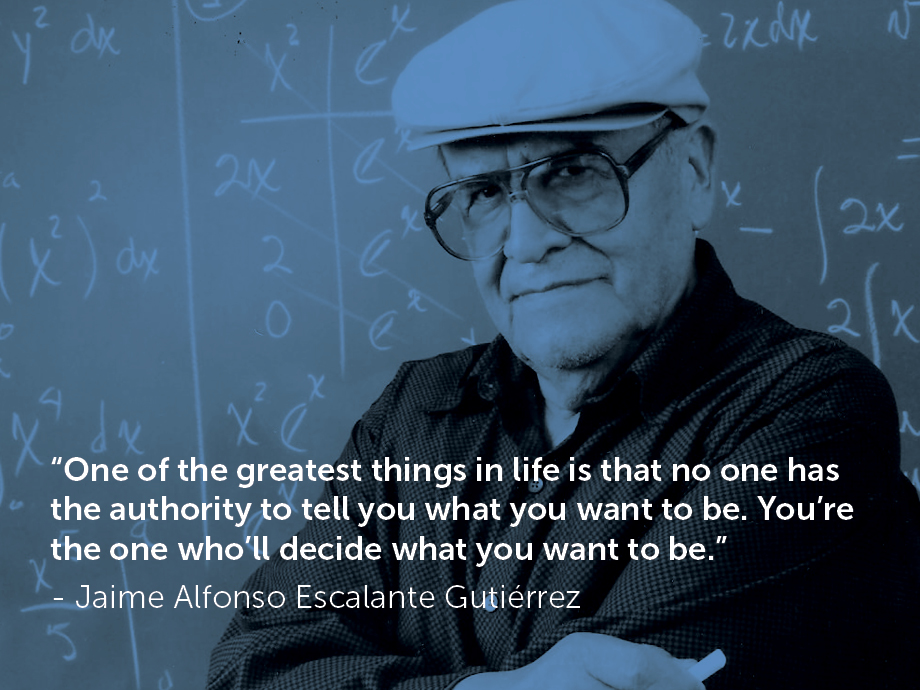 Mr. Gutiérrez breathed new life into Garfield High School in Los Angeles just as it was on the verge of losing its official approval to operate. He was told by administrators to gear his math courses toward poorly-performing students, who the school had dubbed "unteachable." Instead, he chose to offer AP calculus.
Mr. Gutiérrez's fierce belief in his students and innovative teaching methods (such as requiring his students to answer a homework question prior to entering the classroom) produced unbelievable results. The students who took his class went from lacking a basic understanding of simple mathematics to performing well in algebra and calculus. In 1987, 30 of his 33 students passed the AP calculus exam, an unheard of feat!
Mr. Gutiérrez was the recipient of a number of accolades throughout his career, including:
Hispanic Heritage Awards Honoree, 1988
Free Spirit Award, awarded by Freedom Forum, 1998
Inductee National Teachers Hall of Fame, 1999
Member of the President's Advisory Commission on Educational Excellence for Hispanic Americans, 2002
Best teacher in North America, awarded by Freedom Forum, 2005
France A. Córdova is one of 12 children, born in Paris, France. She graduated from Stanford University and obtained her Ph.D. from California Institute of Technology. Just a few of her many notable achievements are included here.
Ms. Córdova has been a leader in STEM education for years, and has contributed valuable research about x-ray and gamma ray sources. She was the youngest person and first woman to serve as chief scientist for NASA, from whom she received the Distinguished Service Medal.
In addition to being an astrophysicist, she has a distinguished career in higher education, from serving as chancellor emerita of the University of California, Riverside, to vice chancellor for research and professor of physics at the University of California, Santa Barbara. While at the University of California, Riverside, Ms. Córdova helped head the first new public medical school in California in four decades.
Ms. Córdova is president emerita of Purdue University, where she began the College of Health and Human Sciences. She was also named one of the 101 Top Influential Leaders in Hispanic U.S. by Latino Leaders magazine and recently stepped down as the Director of the National Science foundation after serving for six years.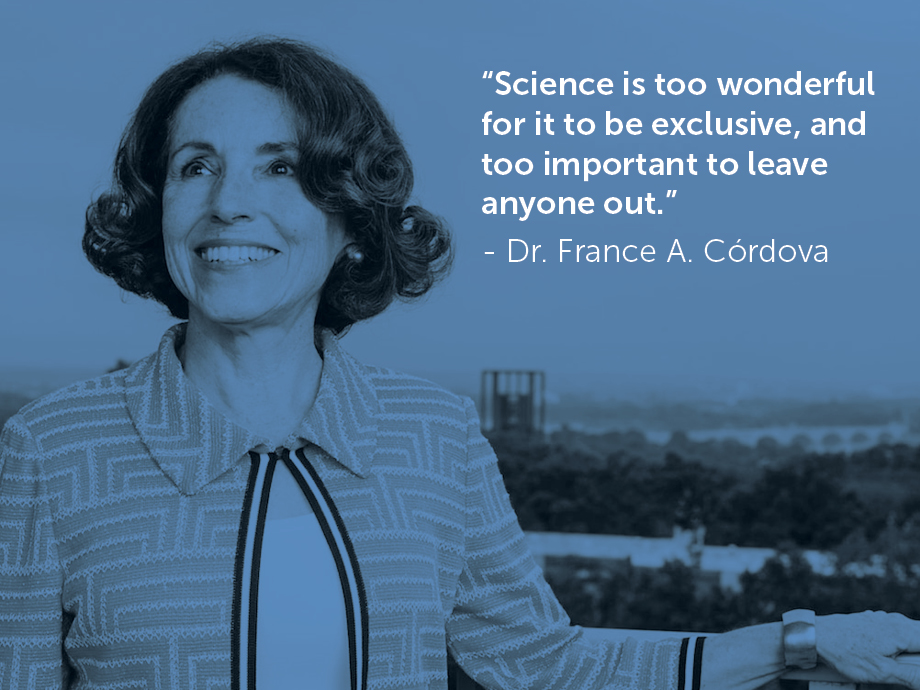 Sor Juana Inés de la Cruz, 1648-1695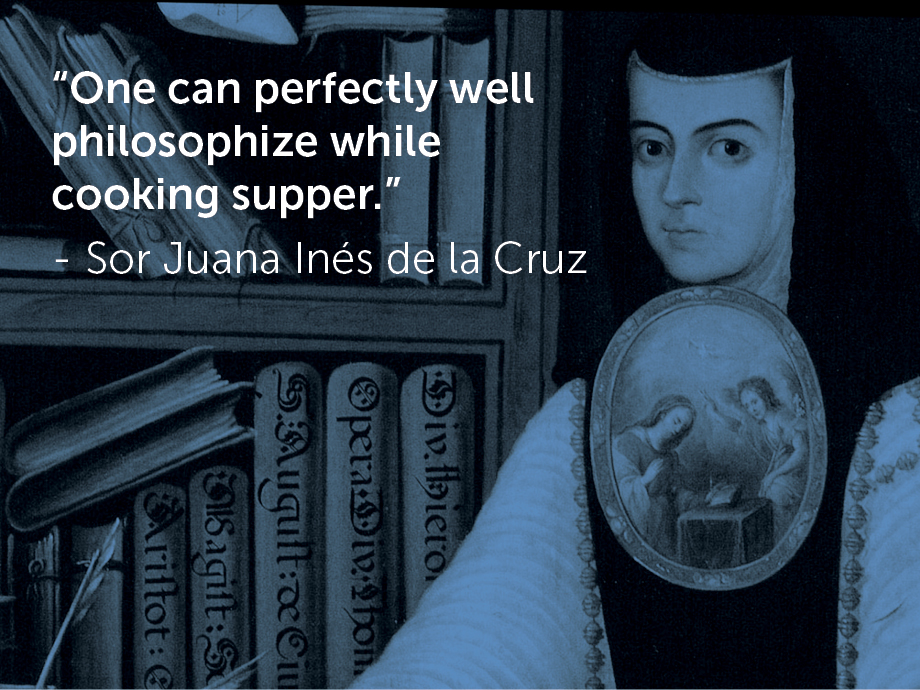 Sor Juana Inés de la Cruz was a woman ahead of her time. Born in 1648 in Mexico, she lived when women had few rights, including the right to an education. Women were even forbidden to read. Sor Juana craved the pursuit of learning and became a nun so that she could have hours of uninterrupted time during the day to study, read and write.
Among her written works are a number of plays and poems, including her renowned text, Respuesta a Sor Filotea (translated as "Reply to Sister Philotea"), in which she called for women's rights to formal education. She is famously known for using the following quote from a Catholic saint in response to criticism that she should be focusing her time studying religious pursuits, not secular matters: "One can perfectly well philosophize while cooking supper."
Sor Juana is known as the first published feminist in the New World, and she blazed a trail for many women to gain rights to formal education.
Marty Castro is a true example of the American dream. He was the first in his family to go to college, even though his high school guidance counselor told him he should go work in a steel mill instead. He graduated from DePaul University and then was accepted into 11 law schools – including the University of Michigan Law School, the top US school in the category at the time, which he chose to attend.
Aside from building a successful career in law, Marty also founded New Futuro, an organization dedicated to helping both Hispanic parents and students with the pursuit of higher education.
Mr. Castro feels that education is one of the most important civil rights and that it can change someone's life and their community forever. He believes it is his duty to help the Latino community get a solid foundation in education.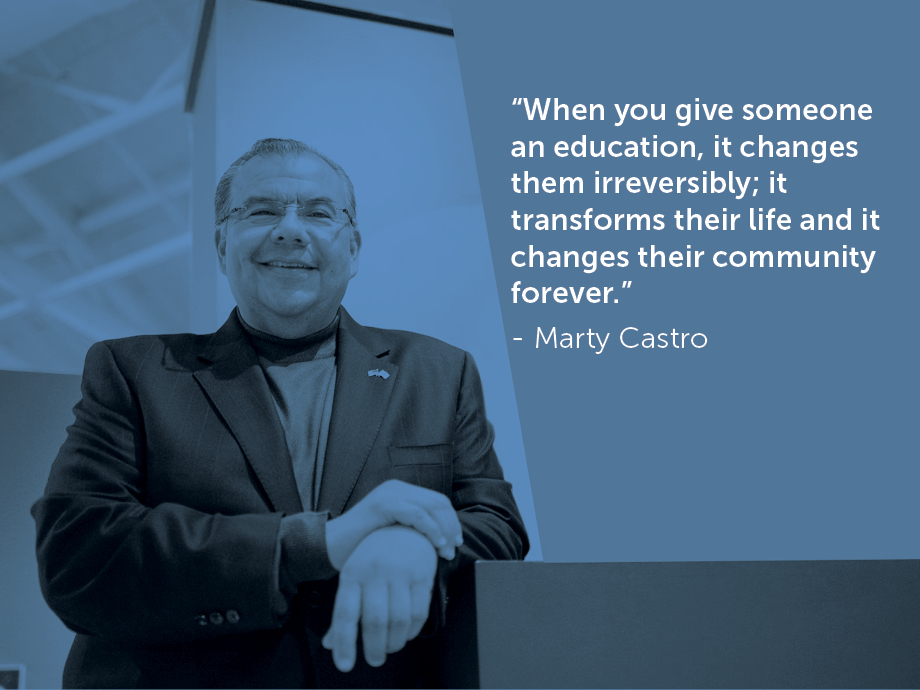 Lasting Achievements to Help Move People Forward
Thanks to all of these individuals, our world has been positively changed. They contributed to the pursuit of learning and, in turn, moving people forward. Here at ProctorU, we mirror that desire to help move people forward as they seek education or to obtain credentials in their professional fields.