ProctorU, the world's largest provider of online proctoring and identity management services, celebrated its 10 year anniversary on October 18.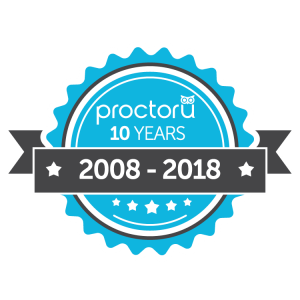 "When the company first began, distance learning was exploding with organizations like StraighterLine, Khan Academy and MOOCs offering an alternative to traditional learning through affordable, online college courses," said CEO Scott McFarland. "Our company progress over the last decade has been phenomenal and we look forward to cultivating the next decade of growth."
ProctorU, established in 2008 in Hoover, Ala., was founded by Jarrod Morgan to proctor the online exams of Alabama-based Andrew Jackson University using basic webcams and screen-sharing technology. Andrew Jackson University, Troy University, California Southern University and Western Governors University were among the first institutions to employ the Hoover-based firm.
"That first year was pretty exciting," Morgan said. "We saw a gap in the market where schools wanted online proctoring for their students, but there wasn't a feasible solution immediately available. We created ProctorU in response to the need in the market and it's been hard work and a lot of fun to get us where we are today."
In July 2010, the company set an internal benchmark by proctoring 1,000 exams in a single month. Next, ProctorU shattered its record in December 2014 by monitoring 75,000 in one month. Nearly two years later, in October 2016, ProctorU surpassed 100,000 exams in a single month. The company has now proctored over 5.1 million exams total and partnered with more than 1,300 educational and testing organizations around the world. The company's global footprint includes six offices and over 400 employees.
ProctorU has been recognized locally and nationally as a leader in its industry over the last decade. In 2012, the Birmingham Business Journal named Morgan to the city's Top 40 Under 40, an award recognizing exceptional leaders under 40 years of age. In 2014, ProctorU ranked No. 183 on the Inc. 5,000, was rated as No. 4 in education companies and No. 11 among San Francisco companies. The University of Florida has honored the company as part of its Gator 100 in 2017, 2016 and 2015. The Gator 100 recognizes the 100 fastest-growing Gator-owned or Gator-led businesses. ProctorU has also seen national media coverage with PBS NewsHour, The Wall Street Journal, The New York Times, U.S. News & World Report and Forbes. To learn more about ProctorU's major milestones, view our timeline.
About ProctorU
ProctorU provides a full suite of online proctoring and identity management solutions for education, professional development and certification organizations. With patented, 24/7 on-demand live proctoring and a fully-automated platform, both backed by artificial intelligence, ProctorU offers a powerful, convenient and cost-effective alternative to traditional test centers. ProctorU increases access to online learning while ensuring exam integrity and accountability for any test-taker with internet access using only a computer and a webcam.