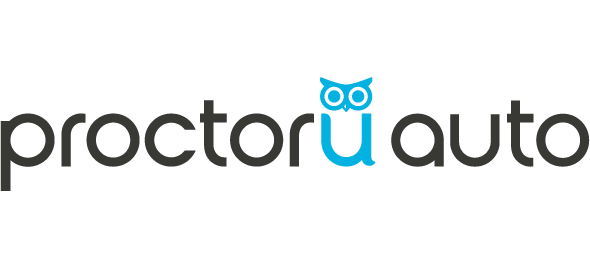 BIRMINGHAM, Ala., Sept. 11, 2017 /PRNewswire/ — ProctorU announced today the launch of ProctorU Auto, the industry's most advanced, fully automated artificial intelligence (AI)-based online proctoring solution. ProctorU is known for industry leadership and innovation in live online proctoring and created its automated solution to complement its current offering. ProctorU Auto uses leading edge technology to verify test-taker identity with multi-factor authentication and then, using artificial intelligence, flags any suspicious behavior in real-time, providing a recorded test session for post-exam review.
"ProctorU Auto is the result of listening to client feedback and bringing the best in machine learning technology to an automated online proctoring solution," said Scott McFarland, ProctorU CEO. "Our AI platform already leads the industry thanks to our experience in proctoring more than 4 million exams. We are proud to bring a new level of innovation to online proctoring allowing our clients to benefit from a full range of proctoring services, all backed by ProctorU's industry expertise and exceptional service."
ProctorU Auto is available with two additional service levels. First, ProctorU Auto with Professional Review provides trained and certified professional proctors to review flagged behaviors from the testing session and confirm breaches of academic integrity, thus alleviating the instructors from performing this function. A second service option, ProctorU Auto with Live Launch and Professional Review includes test-taker identification verified by a live proctor prior to the start of the testing session and then the same level of professional review for the recorded session. ProctorU Auto also gives instructors the option to observe exam sessions in real-time, as test-takers complete them. These new, proprietary capabilities give ProctorU clients the flexibility to choose the best level of proctoring for every online exam they administer.
About ProctorU
ProctorU provides a full suite of online proctoring and identity management solutions for education, professional development and certification organizations. With patented, 24/7 on-demand live proctoring and an automated platform utilizing artificial intelligence, ProctorU increases access to online learning while ensuring exam integrity and accountability for any test-taker using only a computer, webcam and high-speed internet connection. With 4 million exams proctored since 2008, brands like the University of Florida trust ProctorU to protect their reputation. To learn more, visit ProctorU.com.