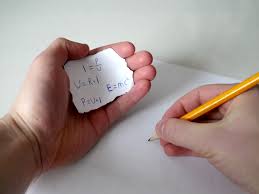 Pressure from parents. Pressure from peers. Pressure to keep scholarships. Today's high school students face massive amounts of pressure to do well so they can get into a good college, then to do well in college so they can have a sturdy, competitive career afterwards. Some students will go to any length in order to not disappoint their parents or themselves.
ProctorU, the world's largest online test proctoring company (and the only one that currently holds a patent for its proctoring process), is leading the fight in combating the academic dishonesty that pressured students are so tempted to take part in. As illustrated in their white paper, they helped break up a financial aid fraud ring at an anonymous private school in the Midwest and saved the school nearly six million dollars.
"'It's like having a sign for a security company outside your home,' said the campus spokesperson. 'We've seen a drop-off in enrollment because of these protections, which worried our president at first, but in the long run it is saving us money and protecting our school.'"
One student at the University of Iowa paid the ultimate price for his cheating and failed not only the test on which he cheated, but the entire class. He recalls the incident in the Daily Iowan, saying that he did it because "it was the last resort" and that he was worried about his grades. He simply copied his classmate's work, but there are entire companies out there based on helping people commit similar academic fraud.
In recent years, the problem with academic dishonesty seems to have gotten worse because of companies that are solely dedicated to ghostwriting or taking online tests. "One UI official notes these companies have become even more aggressive at marketing services," according to the Daily Iowan.
Kenneth Brown, an associate dean of undergraduate programs for the business school at UI, explains that the problem lies in the fact that the institution cannot go after these companies: "They are not U.S.-based, they're not tangible, necessarily." IP addresses of many of the companies are in other countries, making it difficult for U.S institutions to take any action.
That's where ProctorU stepped in and took that action for the institution.. Explained in a Reuters article, "ProctorU is able to monitor students through cameras mounted in the computers used to take the test. In checking the faces of exam-takers against the identification photos of the legitimate students, ProctorU came to believe that impostors had stepped in for the students." ProctorU successfully stopped at least 30 students from continuing to cheat at UI, which in turn saved the institution countless dollars and helped restore their reputation.
Your institution also deserves ProctorU's dedication and the strongest academic integrity protection on the market. Visit www.proctoru.com for more information.