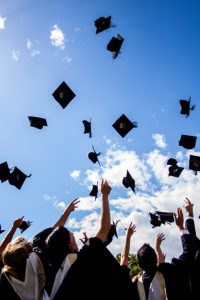 With the end of the year looming, many new college graduates will be looking to begin the next phase of their lives and careers.
With that in mind, LinkedIn has released a ranking of the most popular companies and jobs for new college graduates.
To create this list, LinkedIn analyzed the profile data of millions of students and ranked the 10 most popular entry-level jobs and companies of 2016 graduates. To determine the median salary rankings, LinkedIn looked at data from LinkedIn Salary and used employees who reported their salaries after no more than a year on the job.
LinkedIn has made sure to note that the "results of this analysis represent the world as seen through the lens of LinkedIn data. As such, it is influenced by how members choose to use the site, which can vary based on professional, social, and regional culture, as well as overall site availability and accessibility."
Without further ado, here are lists of the 10 most popular companies and jobs for recent college graduates.
Most Popular Companies:
Deloitte
EY
PwC
Amazon
Oracle
Accenture
Target
JPMorgan Chase
Insight Global
Lockheed Martin
Most Popular Entry-Level Jobs and Median Salaries:
Account Manager – $50,000
Software engineer – $80,000
Business analyst – $59,000
Customer service representative – $35,000
Administrative assistant – $39,500
Recruiter – $39,200
Consultant – $73,000
Investment Banking Analyst – $85,000
Graphic Designer – $36,000
Staff Accountant – $50,000
About LinkedIn
Founded in 2003, LinkedIn connects the world's professionals to make them more productive and successful. With more than 450 million members worldwide, including executives from every Fortune 500 company, LinkedIn is the world's largest professional network on the Internet. The company has a diversified business model with revenue coming from Talent Solutions, Marketing Solutions, and Premium Subscriptions products. Headquartered in Silicon Valley, LinkedIn has offices across the globe.
About ProctorU
ProctorU watches students take exams online using webcams and screen-sharing technology. The service gives students the convenience of testing at home and instructors the ability to ensure exam security.
ProctorU uses a three-step process that confirms that the student who registered for the exam is the individual who is taking the exam and is following the institution's testing requirements. Test monitors can see the student, see what they are doing and know who they are monitoring using webcams and screen-sharing technology. ProctorU offers live, person-to-person, real-time monitoring to more than 900 colleges, universities and certification organizations.