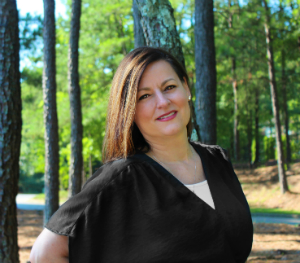 Debra Fowler-Sandford joined ProctorU as director of product management in March 2018. We were so excited for her to join our team and would love to introduce her to you:
Where are you from, Ms. Fowler-Sandford?
That is a hard question. My dad was in the military and we moved every three years. As he retired, we settled in Roanoke, Virginia.
Where did you attend school? What did you study there and what did you like about it?
I attended Roanoke College in Salem, Virginia. I really enjoyed the small campus feel. Class sizes were small and personal. Student life at Roanoke College is very much like a family – everyone is a familiar face.
Prior to ProctorU, what were you doing professionally?
Prior to ProctorU, I have a background in both product management and application development. I have been fortunate to work in a wide variety of industries, software, healthcare, investment, legal and consulting. Most recently, I was the vice president of product portfolio and PMO at Influence Health, a healthcare product company.
Take us through your typical day here at ProctorU. What do some of your responsibilities entail?
My day starts with checking my emails and calendar before I leave the house. I'm an early riser and like to get organized for the day before I walk into the office.
Once in the office, I am focused on the execution of the product team. We currently have several critical efforts going on with Live+, Auto, integrations, UAuth, billing and BI reporting. I work directly with the product managers to keep progress moving forward. In addition, we are rolling out and evangelizing the product team's work and the product life cycle – a major project on my plate.
I am very passionate about building successful teams. I spend a lot of time with the product managers focusing on execution and process.
Between meetings and product specific work, I like to keep up with what is going on in the industry – I usually spend my lunch reviewing several favorite sites to stay current with trends in product, application development, education, and team building.
What is your favorite thing about the company? Your favorite thing about your job?
My favorite thing about the company is the people. I have felt welcome from day one. Everyone is very friendly. My favorite thing about my job is learning and solving problems. That is what a product manager/management does. We learn what problems are in the market and work to provide a product that solves those problems.
Favorite dynamic of your team?
We are really close – we work hard but don't take each other too seriously. There is positive open communication within the team. Everyone on the team has the best interest of the product top of mind with what we do. We laugh a lot daily.
How do you feel your past professional experiences have prepared you for your role at ProctorU?
I have had the opportunity to build teams across companies and this has been instrumental in my role here are ProctorU. Understanding when to mentor, when to lead and when to challenge teammates has been a skill I have used often since joining. As well, a deep understanding of not only product management, but engineering processes has really been a huge help in getting up and running.
Tell us about your family! What's your favorite off-day activity to do with them?
I am married to Jeff – a traveling consultant for the retail industry. We have three kids; the oldest, Cole is about to graduate from Auburn, Cameron is headed into his second year at UAB and Annabelle is headed into her Senior year at Oak Mountain High School. And we have two dogs, Daisy and Stella.
Jeff travels most weeks, so it is usually just Annabelle and me, and we keep really busy with activities related to school. She is on the cross country team and I am the team mom. It is a lot of fun getting to know the runners and parents. On the weekends, we try to stay really active, whether it is riding motorcycles with Jeff, white water rafting, gardening or cooking. And we love movies. Three kids keeps me on my toes and in a constant state of laundry!
If you could get drinks with any icon or celebrity, living or deceased, who would it be and why?
Wow – tough one. I would like to get drinks with JFK, George Washington and maybe a Chicago mob boss from the prohibition era.
How do you think that the landscape of higher education will evolve in the next ten years? How do you feel that ProctorU is contributing to those changes?
I think higher education will evolve to be much more intertwined with technology companies, eg Google, MSFT. The means by which we educate will continue to evolve to more technology-driven mediums that will expand how we think of delivering education. I think we are contributing in very meaningful ways with our current partnerships and efforts with technology companies.
Do you have any advice for people just starting a career?
Listen. Develop strong planning skills early. Never stop learning. And NEVER assume you are the smartest person in the room. Have FUN. If you don't love what you do, don't do it.