National Distance Learning Week 2017 is here!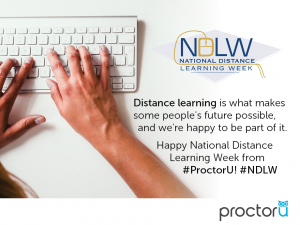 Distance learning is ever growing and increasingly important in today's scholastic environment. Educational opportunities are becoming available across the world as technology becomes more advanced and more accessible.
According to The Changing Landscape of Online Education (CHLOE) 2017 report, there has been a 19 percent increase since 2011 of U.S. students in only online courses reported since 2012. There are over 2.1 million (12 percent) undergraduates fully online and 2.8 million (17 percent) reported to be partly online students. An even larger percentage of the total number of graduate students take advantage of the convenience of online courses – 26 percent in all.
Obviously, distance learning is growing and it doesn't show signs of slowing down.
So, what is National Distance Learning Week? The United States Distance Learning Association (USDLA) explains, this is a time that "all USDLA sectors including Pre-K-12, Higher Education, Corporate, Government/Military and Telehealth will educate their constituents on the amazing growth in distance learning and showcase their accomplishments." Interested in viewing some of the presentations? Click here to register for a webinar!
ProctorU is proud to be a part of the growth in distance learning. In 2017 alone, we have proctored 1 million exams and 4 million since our founding in 2008. Online proctoring has helped increased access to online learning and introduced a convenient alternative to a physical testing center. To date, we've helped online learners in 129 countries avoid traveling to a testing center.
Why do you take online courses? Let us know on Twitter, and be sure to use the hashtag #NDLW!